Post by RRRRRoCK on Feb 4, 2009 17:52:16 GMT
Evenin' all!
This is the build of an Assassin I've used over the last month or two with good success, fighting tooth and nail from Ascension up to Canai. I'll warn you now, while I had a lot of fun playing this character (and continue to) its no walk in the park as his low AC and average saves are enough to get you in more trouble than you can handle in just an instant. Imagine playing a caster BFM that could only cast within 2 feet of an enemy, and you may understand how it is to play this guy!
There were four main aims I had with this idea:
1.To be able to instakill... and instakill quickly as possible!

2.If the instakills failed or wasn't possible, then to be able to hit HARD and as often as possible!

3.To be able to use any weird and wonderful contraptions at your disposal to keep you or your party alive (Precious Rings, Wands of Time, etc) via UMD

4... to have FUN... but then this is truly the most important point!
To achieve these aims, I wanted the highest possible Mortal Strike DC, High amount of attacks, Good crit range (multiplier not as important, but useful), and a good listen skill so that I could actually hit these numbskulls! Personally, unless enemies have a high Damage Reduction, I will always go for a good crit range over a massive multiplier (never used a Scythe in my life!). Basically, there's only one weapon that fits the bill...
...with 4 main hand attacks, 2 normal off hand attacks, and a further two from the HG bonus, plus one from Haste, it has to be the Double-Scimitar. Now, that's 9 attacks... and with this weapon being Keen, if you choose the Critical set of feats (Improved Critical, Overwhelming Critical, Devastating Critical) as well possessing Keen, this goes from a 19-20x2, up to a 11-20x3. That's getting close to half of your attacks hitting for a critical, each of which has a chance to be either a Mortal Strike or Penetrating Strike. ...in addition, whenever you attack an enemy, there's a good chance that each flurry of three attacks will have a Mortal Strike in it... now add this to Great Cleave in an ideal situation, and rather than hitting an enemy for a Mortal Strike, then waiting until the next round to attack another enemy, the Great Cleave lets you refocus within the next flurry! That can be three enemies dead per round! (no.. this will NOT happen in every round of every battle, but in a crowd of Hama's, you and your mages will be glad that it can happen!). You may want to note, that my first choice WAS going to be an Assassin Dagger, both for offense, as well as being able to either Dual Wield or use it with a shield in a pinch... however, bear in mind that an Assassin's Scabbard only can be used on one weapon, so each round that works out to either 5 Attacks with an Assassin Dagger in the main hand, or 9 with the Double Scimitar held in both... I prefer the latter.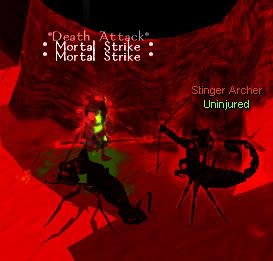 Put down the bow so we can talk... like I just talked to your chum here...
Ok, so we spent enough time in the Ascension weapon's shop looking at the shiny blades on display... now who's going to wield it for us??
Bearing in mind that the Mortal Strike DC on this build is based on Strength (as the choice has already been made to go with a pure 30 Assassin), then we need a character as strong as possible. Orcs were the first port of call, as they have a natural +2 to Strength... and obviously JUGGERNAUT LEAPS OFF THE PAGE... but misses the target awfully due to its Large Phenotype, so would only wield our blade in one hand - they're out. Still, any free BUR with a +4 Strength or more on an Orc, would be equivalent to at +6 on any other race!... there's a good argument for using Kolyarut as first choice, but again, seeing as they are a very difficult race to get a hold of, the best choice for me turned out to be Howler... a plain ol' stubby dwarf! Why? Howlers have +6 Strength, which will in the end be enough for a 56DC pre-hell, pre-demi, pre-artifact mortal strike! The +6 to Constitution helps a lot with both saves, AND with taking a few more hits along the way. Most importantly though, are the Howler's feats - free Exotic Weaponry (needed for the blade). Free Toughness, for another 60 hit points (TRUST ME, this is needed when fighting Hamas). Also, a very nice bonus is the free Bullheaded, which lets you take LSA Discipline in the Legendaries, for your right to stand up to those that want to knock you and your Evil Assassin's ways, down! (also, at the time of writing this, Howlers don't seem to be respected that much outside the Dwarven Defender Community, seeing as there's currently one in a an Auction chest going for a Single Gold Piece... but expect the price to rise!!)
Okay Good. Now we have the blade... we have the Dwarf... now lets begin!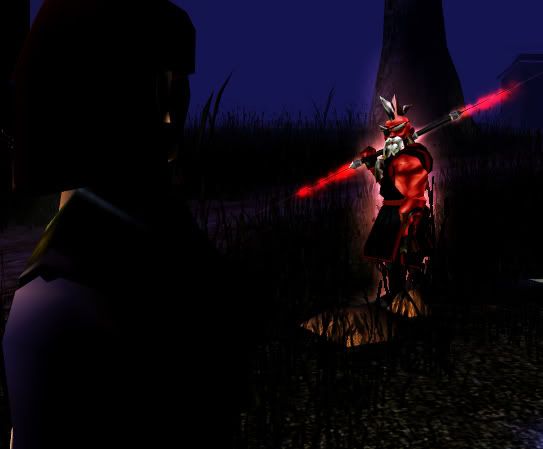 All the ladies love an Assassin...
...especially short, red ones with weird hair-cuts
Alignment: - LAWFUL EVIL (remember this!! Lawful for Monk, Evil for Assassin)
Attributes: Normal, with adjusted Howler stats in brackets
STR
- 18 (24)
DEX
- 15
CON
- 10 (16)
INT
- 14
WIS
- 8 (5)
CHA
- 6 (3)
Level Progression:
Free Feats: Toughness, Exotic Weaponry, Bullheaded, Dodge
Level 01 - Monk - Take Strong Soul (Receive Cleave and Evasion from Monk Level)

Level 02 - Fighter - Two-Weapon Fighting (Fighter Feat)

Level 03 - Fighter - Iron Will and Ambidexterity (Fighter Feat)

Level 04 - Fighter - Strength +1

Level 05 - Fighter - Weapon Focus Club (Fighter Feat)

Level 06 - Fighter - Lightning Reflexes

Level 07 - Fighter - Power Attack (Fighter Feat)

Level 08 - Monk - Strength +1

Level 09 - Assassin - Great Fortitude

Level 10 - Assassin -

Level 11 - Assassin -

Level 12 - Assassin - Strength +1, Improved Two Weapon fighting

Level 13 - Assassin -

Level 14 - Assassin -

Level 15 - Assassin - Great Cleave

Level 16 - Assassin - Strength +1

Level 17 - Assassin -

Level 18 - Assassin - Free Feat

Level 19 - Fighter -

Level 20 - Fighter - Strength +1 Improved Critical Club (Fighter Feat)

Level 21 - Assassin - Overwhelming Critical Club

Level 22 - Assassin -

Level 23 - Assassin -

Level 24 - Assassin - Strength +1, Devastating Critical Club & Great Strength I

Level 25 - Assassin -

Level 26 - Assassin -

Level 27 - Assassin - Great Strength II

Level 28 - Assassin - Strength +1, Great Strength III

Level 29 - Assassin -

Level 30 - Assassin - Great Strength IV

Level 31 - Assassin -

Level 32 - Assassin - Strength +1, Great Strength V

Level 33 - Assassin - Great Strength VI

Level 34 - Assassin -

Level 35 - Assassin -

Level 36 - Assassin - Strength +1, Great Strength VII & VIII

Level 37 - Assassin -

Level 38 - Assassin -

Level 39 - Assassin - Great Strength IX

Level 40 - Assassin - Strength +1, Great Strength X
Epic Attributes:
STR
- 44
DEX
- 15
CON
- 16
INT
- 14
WIS
- 5
CHA
- 3
Level 41 -

Level 42 - Strength +1, LSA Discipline

Level 43 -

Level 44 - Strength +1

Level 45 - Epic Focus Club

Level 46 - Strength +1

Level 47 -

Level 48 - Strength +1, Legendary Focus Club

Level 49 -

Level 50 - Strength +1

Level 51 - Legendary Hardened Soul

Level 52 - Strength +1

Level 53 -

Level 54 - Strength +1 Legendary Will

Level 55 -

Level 56 - Strength +1,

Level 57 - Legendary Reflexes

Level 58 - Strength +1,

Level 59 -

Level 60 - Strength +1, Legendary Skill focus Listen
Final Attributes: Naked vs Full
STR
- 54 vs 66
DEX
- 15 vs 27
CON
- 16 vs 28
INT
- 14 vs 26
WIS
- 5 vs 17
CHA
- 3 vs 15
Saves: Naked vs Full
Fortitude:
38 vs 64
Reflex:
38 vs 64
Will:
36 vs 62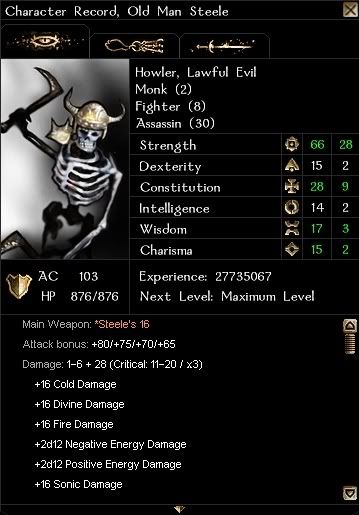 Steele's Current stats at the time of writing.
Notes:-
If you're reincarnating, this will be a moot point, Old Man Steele was a character I played through from level 1 upwards, so it made sense to choose Monk over Fighter on creation:- seeing as you can receive an extra level free at the beginning - Monks may start at Level 3, whereas Fighters may only begin at level 2... and in the Beetle Caves, this makes a TON of difference!
Skills: Personally, I maxed Discipline, Hide and Listen, and 80 points into Tumble, and around 40 points each into UMD and Craft Weapon, which still left another 40 or so to spare (sorry details are sketchy, but I took the last few levels in a Reincarnation Rush to board the Tia train!!)
Possible alterations: Because this character's more likely to be in motion, attacking and avoiding hits, he's most likely going to die (melee-wise) from a hard Critical hit. Taking Snake Blood at level 1 will allow LSA Parry, but will have to drop some save feats along the way. Devastating Critical could be dropped for a free Epic feat, or even a free Legendary Feat if the Epic Weapon Focus is taken pre-Legendary.
Playing with an Open Race: The original character that was made with this build, named King, was a Grimlock. If It weren't for the chance at a slightly higher Mortal Strike DC and more HP, I probably would have stayed with this character, as he made it all the way through to Malboge... and to be fair, I haven't seen another Grimlock player since! Open races of course can have many upsides, including being able to drink Dragon Blood for a free feat - I chose Cleave, which allowed me to take Rogue at level one instead of Monk for more Skill points... added to the fact that a Grimlock is from the Human Race, and already get a nice Skill Bonus, it also meant that mixing Rogue with Fighter wouldn't cause any XP penalties. Also, the 10% bonus to Slashing Damage helped quite a bit during leveling, and the 10% Bludgeoning vulnerability was usually countered via equipment anyway. Bearing in mind you need a high Strength as possible, and remember, with a Dual Wielder of this mould, you also need Dexterity to be at 15 points or higher, Grimlock was a perfect choice... but honourable mentions go to Bugbear and Gnoll.
Alternate versions: I've toyed with the idea of combining Assassin with Weapon Master, but still having the same aims of this build... most likely in the form of Fighter 2, Assassin 30, Weapon Master 8, using one of the Subraces that gives a bonus to Hide and Move Silently - in this case, specifically either a One-Eyed Orc [UR] or Half-Kyton [BUR] using a Dwarf, Human or Orc. This would in order to take the Assassin at Level 2, and then squeeze in the many MANY feats needed for Weapon Master. Its doable, but there'd be a lot of sacrifices to make. The main thing though is that the weapon's Critical Range could be increased at least another point, and a higher Critical Multiplier as well, for potentially 10-20x4 (numbers off the top of my head - correct me if I'm wrong)... but the Mortal Strike DC would likely drop a few points. All in all though, I'll stick with what I have as its working and its fun... but if anything changes, I'll let you know!
Enjoy!
RoCK
Edit: Added the Class split to the title so that this post doesn't get deleted lol - Thanks Jonuhey!!