Post by Yomi on Jan 7, 2008 21:01:54 GMT
This is a pure caster bard which has worked out very well for me. It is a 36 CHA build without spell penetration which may limit it in the future. It works harder on being hardier than on being focused toward casting. I'm also relying on the
HG Enhanced hak
to allow Extend Spell to work on all spells.
Good points:
High enough CHA to get empowered Ice Storm from the harp and ok epic duration.

Enough str and dex to not get KD'd all the time in the Hells, though not immune.

Maximum song and curse bonus through artist and pure bard, and ESF: Perform helps keep perform high.

85% conceal and +15 stoneskin via song.

Better SR and save drop to enemies on curse than splash bards.

Bad points:
Only 4 epics.

Saves are adequate but not as nearly as high as paladin splash.

With a final CHA of 48, spell DC's aren't good and no spell penetration makes it iffy (though you get a free -6 to their SR every time you curse, so you're similar to a cheese sorc without a bard/mords).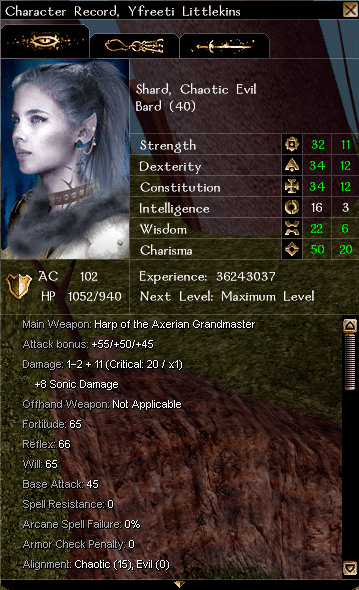 Yfreeti after single demi and using save artifact. Buffed with bardsong only.
Race: Human Shard (BUR subrace)
STR: 14
DEX: 14 -> 18
CON: 14 -> 18
WIS: 8
INT: 14
CHA: 14 -> 18
Level progression: 40 Bard.
Feats from Shard: Lasting Inspiration, Extra Music, Lingering Song.
All stat points into CHA
except
level 32 which is CON, and the last 6 in Legendary Levels which are 2 DEX and 4 STR.
You get the caster bard song at level 28, which gives all party members a stoneskin effect as part of your bard song.
Pre-Epic Feats:
1: Artist, Strong Soul
3: Curse Song
6: Extend Spell
9: Combat Casting
12: Great Fortitude
15: Iron Will
18: Spell Focus: Necromancy
Epic Feats:
21: Great Charisma
23: Great Charisma (bonus feat)
24: Great Charisma
26: Great Charisma (bonus feat)
27: Great Charisma
29: Epic Skill Focus: Perform (bonus feat)
30: Spell Focus: Divination (or Enchant)
32: Greater Spell Focus: Divination (or Enchant) (bonus feat)
33: Great Constitution
35: Greater Spell Focus: Necromancy (bonus feat)
36: Spell Focus: Transmutation
38: Greater Spell Focus: Transmutation (bonus feat)
39: Improved Combat Casting
Stats at 40: STR 14, DEX 18, CON 20, WIS 8, INT 14, CHA 32.
Read Illusion book at level 41 and go get the Possum epic ASAP.
Legendary Feats:
42: Epic Spell Focus: Divination (or Enchant)
45: Epic Spell Focus: Necromancy
48: Epic Spell Focus: Transmutation
51: Legendary Spell Focus: Illusion
54: Legendary Spell Focus: Divination (or Enchant)
57: Legendary Hardened Soul
60: Epic Reflexes
As mentioned above, your stat points in legendary levels should be 4 CHA, 2 DEX, 4 STR.
Stats at 60: STR 18, DEX 20, CON 20, WIS 8, INT 14, CHA 36.
Saves: 60 Fort, 60 Reflex, 61 Will
HP: 900
AC: 92-102 using UR/Illithid gear, with 85% conceal.
Skill Points: Max Concentration, Discipline, Heal, Parry, Perform, Tumble, and UMD. In LL's do the same but put points into Taunt instead of UMD. This should give you enough Taunt skill to handle most mobs once cursed and enough UMD to use most items and scrolls.
Some considerations
I chose Divination for my 4th epic. This gives Winter Is Coming which is a pretty handy epic for dealing with nasty mobs. It also lets you give out +25 listen to party members, Moment Of Prescience when it's implemented, and 4 turns of poison immunity. This choice limits your GMW to +11 (using Dachy Lute or Tia Harp). If you choose Enchant instead you will get +14 GMW and the Hear Me Roar epic instead.

There are many other ways of taking feats for saves. You are welcome to experiment with combinations of LoH/Legendary Luck, Legendary Save feats, and so on. You could use the save artifact for +3 to all which is what I did on mine, which makes the save numbers nicer for the deeper Hells.

It is possible that there will be items made in the future that would lead one to want 60 UMD. So far the items I've seen in the current game are not things my bard would want to use (e.g. druid shields). I find with Yfreeti my taunt skill is right on the edge of success most of the time and she put 0 points in. Hence with 20 skill points spent in Taunt it should work quite often. It's not an ideal situation I admit.

Get someone to make you scrolls of Mindblank, Stone to Flesh, Black Blade, Greater Sanctuary, Gust, and Mord.

Equipment:
Armor: Bulwark is the goal. Until then, Jamamros robes. Without either of those, any robes of your choice such as Ssithrak, Dachy, etc.

Cloak: Ectoplasmic Weave.

Helm: Soul Mirror from Illithids.

Staff: The Tia Harp is your goal. The Dachy Lute is fine until then. While levelling up I found the Charming Sling from one of the stores to be handy as it give a small CHA bonus and works as well as anything else for the character.

Torch: Legendary Horn of Blasting from Desert. Don't forget this is an artifact. The Ruby Rod would be excellent once demi and acquired.

Bracers: Lots of choices. I'm wearing Fiendish Fingers for the stats and resists, but there are plenty of other choices. I recommend carrying a set of Immo Bracers for the +20 perform. Clasps of Forewarned are always useful for the immunities.

Amulet: In the Hells I always use a Lich King to cover Fear and Poison as well as other immunities. I always carry an Adaptation for use on LL runs.

Belt: Whatever works bet. This could be a Narendil, Tiamat bard belt, Bestial Resilience if you have the Str, Psi Actuator, or many other choices.

Boots: Lots of choices. I've been using Nightmare Hooves for the extra 10% to elements, and swapping in Rona boots for +perform on first song. Alternate good choices would be breach or mord boots, or something that helps with immunities or stats.

Rings: As needed. In Hells I usually have a breach ring on if Corns are around and a mord ring if I'm the spawner and there are Raks (Dis, Malbolge, Malad). In Dis this means I'm usually using a breach ring and a mord ring. On other layers the other ring is whatever works best for the area -- e.g. Acidic Cinder Coronet in Phleg or Maladomini, something with Acid for Min. In Ssithrak a mord ring + crackleshard. In Illithids a mord ring + electric/(cold or acid), assuming you're using the horn with its 100% sonic.

In the 40s your conceal and stoneskin will be a bit lacking so you'll need to be careful on the LL runs. In the 50s you'll find damage going down quite a lot, and spells like Balagorn's Horn will start working (Cerebremancers and Ssithrak archers are vulnerable to being KD'd). By the time you hit 55 you may find you can stand flatfooted in the middle of a room full of illithid thralls and take little to no damage while they beat on you. While this is amusing don't forget that once your stoneskin and/or energy buffer wear off it gets ugly, so best not to tempt them too much. Don't forget your healing circle acts like a 10-20 round 40hp/round regen for you and everyone around -- it's handy to cast before you take on a room. Be cautious around anything with big crits -- the Ssithrak S'Jab for instance can be pretty nasty.