Post by crimsonbinome22 on Nov 25, 2009 7:34:25 GMT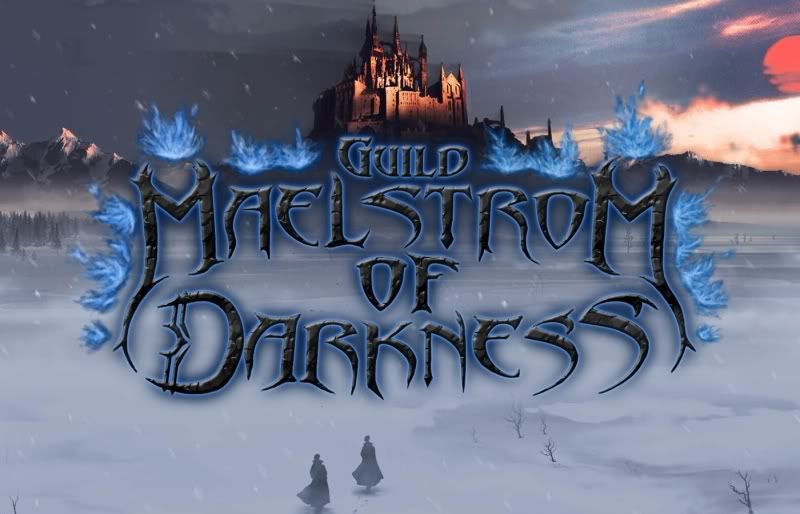 "...and as the chaos began they stood before them, the fire in their eyes the only light to counter the shadow of their souls. The wrath of the winds they had brought failing to shift their cloaks, and the fury of the flames unable to disrupt their gaze. Even as skies turned crimson they would offer no explanation for the destruction around them, speaking only to say that the time for retribution had arrived, and that they were to be known as the Maelstrom of Darkness..."
Theme
The Maelstrom of Darkness is based around the creation of chaos and darkness, and the fear of what lurks in the shadows below. We would position ourselves as chaotic good on the alignment scale, as there is reason and helpful intent to our creation of chaos. We represent ourselves with the blue flame, and are symbolized by flames and darkness.
Aims
The main aim of Maelstrom is simply to group together players in Oceanic timezones (mainly Asia, Australia, New Zealand). Our ideal play time of an afternoon is unfortunately off peak hours for the majority of players on the server, making forming runs difficult at best. Maelstrom hopes to collect some of these people under one guild. By helping each other with tags and communicating via xfire we can much more easily start and coordinate runs at a time which is relatively devoid of deep hell runs. You don't necessarily need to be an Oceanic player to join Maelstrom, players from all over the world are welcome, but they should be aware that most of their guildmates will only be awake at strange hours.
Mostly we seek to play in end game content, hence our builds are tailored towards conquering the Hells, Aboleths and Elysium as often as possible. Characters do have to be levelled eventually, so we don't mind dabbling in 40 – 55 Legendary Level runs either.
We also hope to support and foster newer players who aspire to complete the nine Hells. By assisting players within Oceanic timezones and developing their skills we hope to create a greater pool of players who are available during off peak hours.
Challenge runs are also an important part of our guild. Challenging and unusual runs are an exciting way of breathing new life into runs you've done countless times before. These sort of runs can be Hell parties with 2 – 6 players, or Cania with 3 shifters and no tanks. Runs like these are exhilarating and a nice change from the usual grind. They are also a good way to hone skills and truly put builds and players to the test. Even better, due to the ghost member system, with small parties in the Hells we can still get the loot of a 10 person party.
Contact
For queries about membership, or anything guild related, myself and Arcane Retribution are the guild leaders.
crimsonbinome22 – username for Xfire, Skype, Yahoo and forum contact. Xfire and forum pm are the quickest ways to reach me.
Arcane Retribution – xfire or forum contact.