Post by whatriot on Nov 27, 2009 13:25:52 GMT
This was the next logical step for me from Woody the Woodland Assassin. I would still have no problem recommending the previous build to anyone not double demi and looking for an easy to obtain bur race build (Furchin, the great unloved!). However, once you have double demi you can dramatically improve many aspects of the build: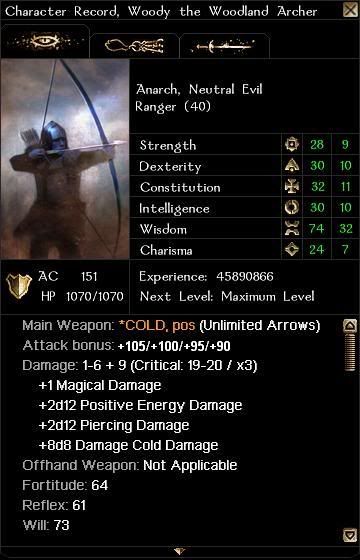 The attack progression numbers are edited to reflect the true numbers. Called Shot is DC 64, which can now be boosted to DC 66 with Foe Bane (affects the first called shot to land in the following minute - useful to cast pre-spawn).
Race: Human
Subrace: Anarch
Alignment: NE (not important)
Starting stats:
Str: 12
Dex: 14
Con: 8
Int: 12
Wis: 18
Cha: 8
Take Wisdom at every stat gain:
1 Blooded, Outsider, Strong Soul (!charedit at level 1 and switch this to dauntless)
3 PB Shot
5 Aberrations
6 Zen archery
9 Called Shot
10 Elementals
12 WF: Shortbow
15 GWF: Shortbow, Magical Beasts
18 IC Shortbow
20 Giants
21 Wis 1
23 Epic Prowess
24 Wis 2
25 Bane of Enemies
26 Shape Changers
27 Wis 3
29 Vermin
30 Wis 4, Animals
32 Monstrous Humanoids
33 Wis 5
35 Reptilian Humanoids, Beasts
36 Wis 6
38 Fey (optional, pick something else if you fancy)
39 Wis 7
40 EWF Shortbow
42 LSA Tumble
45 Epic Reflex
48 Wis 8
51 Wis 9
54 Wis 10
57 LWF: Shortbow
60 Leg Valor
Max Tumble(60), hide, listen, discipline, grab some concentration (20 is fine) and do as you wish with the leftover.
I'm currently using the Asmo belt as it gives +4 to str and dex checks, allowing you pretty free movement in the outer UUU radius. And it gives you an unlimited source of GS - very useful for a build that cannot use scrolls. Also it is not an ego item, because you WILL want to wear the Ranger DC ego item to max that CS.
The new Ranger wisdom bows now let you do some sort of damage as well as insta kills, although you will still spend 90% of your time on trash removal. The super high DC 64 is very effective, noticeably better that the DC 62 on the previous build.
Remember to cast Foe Bane before known spawn points and don't press the CS button until you have picked out a really nice target (Random, Raja etc). Keep Invisibility Purge up.
I know the reflex save is a little low, but I have been through Abos 1 without any problem, you do have the advantage of being pretty fast, so try to launch your attacks from out of harm's way.
Edit: Obvious Points - Wisdom Arti, Read Abjuration Tome, wear PoM gloves.