Post by Bad on Jul 26, 2011 17:30:52 GMT
First of all I would like to thank Funky, and the DM / Dev team for creating Higher Ground; your skill and tireless effort have enabled Higher Ground to surpass anything the creators of Neverwinter Nights could have envisioned.
A truly masterful symphony of design, game balance, execution and sheer blood, sweat and tears; I could write a book about all the incredible things HG has to offer.
If, Higher Ground's coding and technical wizardry are its body, our community of players is its beating heart, and the friendships it helps to forge are its very soul.
Those friendships are the main reason I have decided to write this post, I could just as easily leave the server as I originally intended and move on with my life. But alas the large number of PMs , Skype messages, and posts asking me to stay are the raison d'être for my post.
This week the DM/Dev team held a meeting to discuss and vote on which of the many nominees posted on these forms would be invited to join the team.
It has come to my attention that during this meeting, Funky felt that it was vital to share certain information about me with the team prior to the commencement of the vote. He was kind enough to swear the team to secrecy in the strictest terms prior to imparting this information to them.
I have full confidence in the team's ability to keep a secret, but since the time and need for such secrecy is over, I felt it incumbent on me to remove this burden from them and to share with you, the secret which only Funky was privy to until now.
For all of this to make sense, I feel it is important to tell this story from the beginning:
Very Brief History:
I learned to play D&D when I was 11 years old, and have been hooked on it ever since. Home campaigns, conventions, and adventure games were, and still are my favorite pastimes.
It was my good fortune to be able to retire from serious business 12 years ago. At that time I moved from New York City and Stamford CT to Sedona AZ.
Having plenty of free time on my hands I opened several small businesses, played D&D and went hiking etc.
My never-ending battle against boredom was given a temporary respite when I discovered AW POA about 7 years ago. It was one of the best renditions of online D&D that I had seen to date. And I wound up playing it for about a year until two server wipes and a new business opportunities made me quit.
Role Playing
While living in New York City I became involved in competitive D&D role play. The group I played with stayed together for five years and played an absolutely mind blowing home campaign where being out of character was not an option, you were your character period.
Our group often attended conventions and competed as a team or individually. The most notable of these conventions was GenCon where 30,000 gamers would compete for 3 days to find out who was the best role player that year.
It was my great honor to captain our team to three back to back wins of the "Team Role Playing Competition" at GenCon (1995, 1996, 1997). This was the only time in GenCon's 42 year history (http://en.wikipedia.org/wiki/Gen_Con) that a team had won more than one time in a row and as a result we were asked not to compete again.
Though we were gifted the traveling trophy by TSR (The only time a team was allowed to keep the trophy). (Images Attached).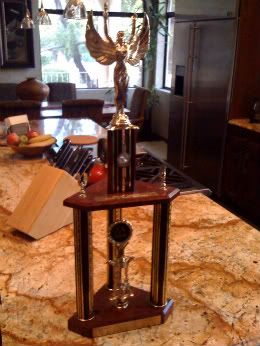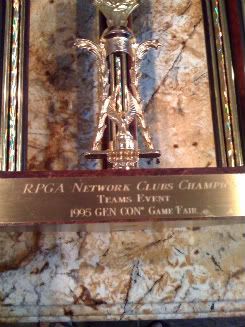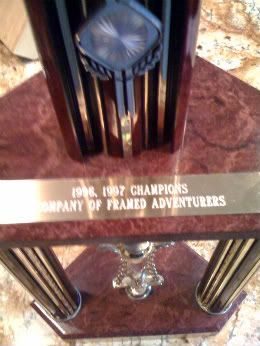 It was also my good fortune to win "Best Heroic Fantasy Player" in 1997. (Images attached)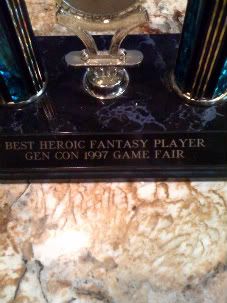 Our team's exploits appeared in Polyhedron etc.:
Author for Polyhedron Newszine.
Wrote the article 'History of The Company of Framed Adventurers' for the regular feature "Table Talk" in Polyhedron #133
Hyatt Project:
The business opportunity that wound up pulling me away from POA was a joint venture with Nick Pritzker (http://en.wikipedia.org/wiki/Nicholas_J._Pritzker) and Hyatt Hotels called Fine Art by Hyatt. (http://www.cincom.com/pdf/SY050809-1.pdf).
To get the new company off the ground the Hyatt PR machine went into action, they made serious inroads with several talk shows including Oprah plus industry magazines and syndicated radio.
It was agreed that for these interviews to have the impact we desired, a major issue of concern needed to be addressed; credibility and authority needed to be established otherwise my interviews would lack the punch necessary to drive our message home.
It was decided that I needed to become a published author.
Fine Art By Hyatt
by -----------------, Published 2005 by Destiny Fine Art
ISBN: 0976649802 / 0 9766498 0 2, ISBN 13: 9780976649809 / 978 0 9766498 0 9
And:
Secrets of Today's Art Market Made Simple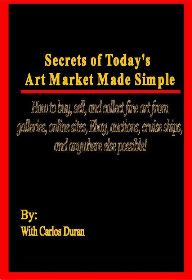 Carlos Duran (http://www.amazon.com/Que-Tal-Pepito-Carlos-Duran/dp/0245592695) also
www.abebooks.com/author/Carlos+Duran/2397035/
This is how I came to meet my ghost writer Carlos Duran, in roughly 8 weeks working 18-20 hour days we authored two books for the project. While working on these books we discovered a shared love for fantasy and fiction writing. We even began to sketch out some ideas for other works.
But as often happens in life we both got busy, and lost touch until late 2008. This was when Carlos e-mailed me, he was living in Costa Rica and bored out of his mind; did I feel like taking a serious stab at something different?
I was curious as to what he had in mind, so agreed to listen. He gave me a long dissertation about MMOGs and their popularity. As well as the total lack of MMOG related fiction, searching amazon.com confirmed a shortage of anything remotely interesting in the genre.
The Project
Under the working title of the "The Parallel", we were going to explore the parallel lives lead by gamers, in MMOG's and in real life. But this subject while interesting seemed in and of itself to be dry and lack flair.
Our many discussions eventually brought the project further into focus, It would need to be loosely based on a MMOG setting and begin as a work of fiction, but slowly transition through the use of foreshadowing, light anachronism and dénouement into parallel stories about a gamer living two lives; one life in game and the other in the real world.
Now all we needed was to find the right MMOG, if it was too large there would be little long term interaction in game, thus limiting our ability to gather quality source material and we knew that we needed a truly compelling persistent plotline.
We would also need a twist to the story, something to give it a real interest subject, something different.
I think it was Carlos who finally came up with something that would do the trick:
Was I not one of the top role players in the world?
Could I not role play something very different and do it for a very long time?
Maybe…….
This was when I recalled AW POA and how much fun that mod was. Though after a quick check of game spy I found that is was now called Higher Ground POA. Oh well it's worth a look.
That is how I once again came to set foot on the dock of Ascension about two years ago.
That is also how being male I wound up role playing a woman for two years.
That is the secret I asked Funky to keep for the past two years.
And keep it he did, until last week's DM vote.
Nothing would make me happier than to continue spending time with my friends on Higher Ground, though it is likely to be somewhat limited due to a new project that I am working on at the moment.
I would also be happy to continue to help market Higher Ground and get us the exposure we need and deserve. But I am resolved to do this out in the open and without any further need for secrets.
Should I choose to return, it is still my intention to honor my Last Will and Testament, as helping the community continues to be my primary focus and desire.
Project Parallel:
It was my first inclination to append several of the finished chapters to this to give you an idea of what we have been working on.
But since Carlos is actively shopping the concept with publishers at the moment, he asked me to post only small highlights.
Creation:
My first clear memory is of seeing my bare toes, casting tiny rounded shadows on wood seamed with tar. Blackish brown, sticky and warm, the tar clung to the soles of my bare feet; the mildly spicy fish laden scent of salt water and warm moist air clinging to my skin.
Angry seagulls, made a constant counterpoint to the ruckus sounds of massed humanity plying their trades and milling about a small bustling dock.
The deck of the skiff I was on swayed gently, leisurely swells tugging at the ropes mooring it safely to the dock of what seemed to be a small harbor town.
Which town?
Where am I?
Or, more importantly who am I?
A small knot formed in the pit of my stomach, I was drawing a blank, my only memories were blurred, insubstantial faces, and strange symbols; slowly floating toward the surface of my consciousness, only sink out of reach at my mind's lightest touch, phantoms, and wisps tempting me to look just a bit deeper.
Queasy and lost in my thoughts, I was startled, and looked up quickly at the sound of a man's voice. A rough, weathered drawl that seemed to come straight from his stocky barrel shaped chest.
Tall, with wind tangled salt and pepper hair and beard, the man was dressed in homespun clothes, faded to near colorlessness by the ravages of sun and salt. His face was old creased leather, long ago having lost its battle to age, sea salt and a care worn life at sea.
He smiled brightly, showing off strong, slightly yellowed teeth, and exclaimed "Welcome to Ascension, missy!"
Meeting My Master:
The air filled with the salty coppery stench of fresh blood, I was surrounded by small crouching forms. Choking and nauseating the miasma of blood became overpowering as the diminutive creatures drew closer.
My Makeshift torch feeble, and unsteady in my hand, I was just able to make out the small form closest to me.
The creature was no more than three feet tall, but the crouching menace of his tensed frame was a coiled spring. The humanoid's wiry hand expertly clutched a wicked looking double curved dagger; its blade oozing a greenish ichor that dripped slowly to the ground, leaving a trail of tiny smoking droplets.
His small face had a twisted permanently leering expression; tiny protruding teeth and yellowing bloodshot eyes were shadowed by a mass of yellow hair partially obscured by a red stocking cap covered with blood and gore rivulets of which ran down a face that spoke madness.
A tiny scrapping voice filled with venom, screeched "bad, bad hummmannnssss, you are baaaad to come here, die, yes die you must, tall ones bad".
"Yesssss, feel your insides, warm on my cap, yessss, you are bad! Blood oh yes!"
The speed and sheer viciousness of the assault left me frozen. I could only stand there and watch as the hideous little humanoid stalked forward and with the practiced ease of a knife fighter launched a wide reversed thrust meant to disembowel me with a single stroke.
Taking in huge gulps of air, fear pumping more and more adrenaline through my system, time slowed; the scene had a sharp icy clarity that often presages death.
My ears were ringing, no wait not my ears. It was the clang of metal on metal as the the humanoids dagger was expertly parried less than a handbreadth from disemboweling me.
A huge mass of fur, horns and hooves suddenly materialized among my attackers, It towered eight or nine feet tall, shaggy and heavy muscled, its huge form moved with the fluid and grace of a dancer.
Two metal wheels studded with spikes spun crazily around both its hands and arms, weaving a tapestry of steel around the gigantic bull man. Silent and deadly as a hunting cat among mice, each movement flowing into the next and the next, I snapped out of my shocked state just as the last of the humanoids slumped to the ground clutching its neck.
Wearing only a small bright orange kilt and holding the two strange metal wheels in front of him, the bull man gave small nod of his head and with a rumble that shook the ground grated "I am brother li qi chang, and you are?"
Mind racing, struggling to remember my name, nothing there, I was drawing a blank. Worried that my rescuer would think me slow or stupid, I spoke without thinking, "I can't remember, I don't know, but those creatures called me bad, so I guess Bad will do for now."
The Training:
Mindful practice was the first thing I was taught. I warrior must be conscious of every movement and conscious of everything around them.
The lush forests of Fey are nothing short of awe inspiring, an emerald landscape suffused with green light and life. Trees so tall as to be surreal formed several layers of canopy, which effectively cocooned fey, creating a world apart and ecosystem that was truly unique.
Two thousand six hundred and sixty three heart beats have passed since my Master last attacked me. Is this another test?
It was almost time to set up camp for the night. Sticky and slime covered, itching from numerous bug bites, and worn out by a long day of slogging through overgrown vegetation while not harming the least plant or insect.
"Never harm or kill unless yours, or another's life is in danger." So easy to say master ,but these bugs are eating me alive. Oh well.
"We stop here", grunted Master Li
Two thousand nine hundred and thirty six heart beats.
"Time for us to train, and give thanks to the sun, before we fill our bellies." He went on.
The old battered purple rucksack he carried hit the ground with a soft thud.
Instantly, I was on guard.
Good thing too, as a wall of flashing fire wheels blurred to life in front of the mighty Minotaur.
Breath remember to breath, first the left nostril, then 3 heart beats, right nostril 3 heartbeats, breath from my udder, err well abdomen, the Dantian my energy center.
Crouching low, I countered master Li's double crane strike with voles hunting egrets. My arms stung from the power of his blows, my wrists near the breaking point. Serpent swallows the sun, counters dancing butterflies and furtive mole parries, kingfisher and cattails.
My arms are numb and boneless, his wheels batter mine with the measured cadence of a blacksmith hammering iron; biting my lip hard enough to draw blood, helps me keep my focus. I manage to keep my breathing even, left nostril, right nostril.
My lungs are on fire, begging for the huge gulps of air that will make me tire even faster. I bite down again harder this time, tasting more blood, trying to stay focused; my breathing stays rhythmic as I have been taught.
The flow of Dantian warms my core and slowly sends shivers through my arms and legs. Shaky and almost out of reserves but still standing, I float above myself in a small pocket of focused concentration.
Blow after blow, counter and counter as the sun slowly sets.
My will finally gives out, stumbling on and exposed root, too exhausted to even raise my arms and break my fall; I drop to the ground like a graceless sack of millet, panting and fighting for breath, all attempts at rhythmic breathing forgotten.
"You move like a Yak with two club feet, Bad" Rasps Master Li not even breathing heavy.
"Life snubbed you cruelly, by not giving you a set of horns and hooves like a proper cow, but you can at least try to keep your head up and tuck in your tail while you shuffle your feet."
I just lay there, completely spent and panting.
"Enough, go fetch wood for the fire."
It takes all the effort I can muster, slowly and gingerly I climb to my feet, legs wobbly and graceless; I stumble twice. Keep my temper carefully in check; and meekly make my way into the undergrowth, looking for dead wood.
I can hear Master Li muttering, "Weaker than a newborn calf, remember pick only dead wood, never harm or kill unless yours, or another's life is in danger."
Two hundred and twenty three heart beats.