Post by Test on Apr 7, 2012 23:43:25 GMT
This build has been on our guild forums over 18 months now and has been demied by 3 other guildies so I thought I would add it here.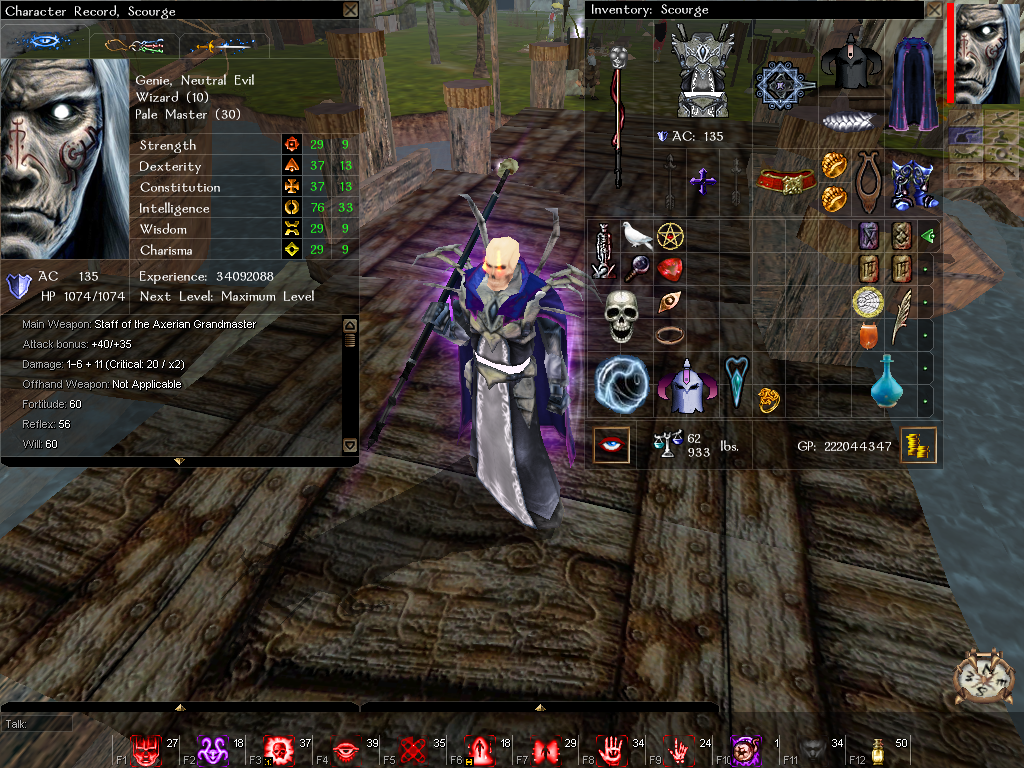 I revised this toon and reinced 12 months ago now based on a comment Eb made re search, and pure frustration re the lack of runs for PMs. It is now a little more able to cope with Raks, and can search Hells.
The Conj is solely for Epic Grab - do not try to cast Conj spells in Hells. Likewise, the Trans is solely for Wall - the only thing you'll disintegrate is your mana.
General Stuff
Race Elf
Subrace Genie
Pandect: Shield
Book: Illusion
Arti: INT
Unbuffed Stats:
AC: 135
HP: 1074
Levelling order:
4 Wiz, 10 PM, 6 Wiz, 40 PM
From Genie:
Free Feats: Spell Penetration, Greater Spell Penetration
Able to walk on quicksand
Speaks: Auran, Celestial, Ignan.
Current gear:
Tia Staff
Blazon of Selune
Odruns Oath (added 51% elec and 20% acid with 3x 14s)
2x Tia Rings
Tia Belt
Tia Cloak
Styxwalkers
Mote of Armor Adeptory
Helm of Darkened Vision
Shimmering Robes of the Silvermoon (+1 DC for COD)
Thids bracers
It should be noted that by using the Shimmering Robes of the Silvermoon (a set item from a chest on Map 3 of Stygia) you will get the same DC for CoD as you do for FoD. This completely negates the argument for using AoE FoDs via Negatai/Plate of Anubis in Hells as it means you take zero kickback on this build as oppossed to the potential kickback from miss-targeting on the Negatai version and including Malebs/PFs etc in the AoE with precisely the same spell effects and stats - only using a lower level spell.
Helm of Darkened Vision will increase your Eyebite spell.
The Blazon of Selune gives GSF Div!
Suggested Ego Item
As far as Ego Items go - if I had one I would use a Wizard DC ego item. This is as all spells cast on a regular basis by this toon in Hells are DC based. (The exception being the Asmo fight where you do a little damage - but you need the DC anyway as you must Bestow, Eyebite and Enervate first).
Feats:
Silver Palm
SF Trans
GSF Trans
SF Necro
GFS Necro
SF Conj
GSF Conj
Empower Spell
Maximise Spell
Silent Spell
Epic Spell Pen
Epic Conj
Epic Trans
Epic Necro
Greater Ruin
Great Int 1-7 (these are the feats at 21, 24 etc)
Leg Feats
Leg Spell Pen
Leg Necro
Leg Illusion
LSA Search
Great Int 8-10
Stats: (start/Shard/Double Demi)
Str = 8/8/24
Dex = 14/16/32
Con = 14/16/32
Int = 18/24/74
Wis = 8/8/24
Cha = 8/8/24
All bonus points go to Int.
Skills:
Concentration (max)
Craft Armor (max)
Discipline (max cc)
Listen (max)
Lore (max)
Persuade (max)
Pick Pocket (some)
Search (max - only taken after LSA Search feat)
Spellcraft (max)
Tumble (max cc)
Open Locks (max cc)
Detect Traps (max cc)
Important Levelling Stuff:
It
will
be a pain in the ass but make sure that you take HG Enhanced spells and the un-scribeable spells on level-up. The only way to avoid this is to have a Codex of Arcane Algorthyms (I am still working on farming a second one for this toon - my Wiz has the only one I have had drop).
Setting up the Spell Book:
Notably, depending on the run you will want to swap out some of these spells and add Power Word Kill.